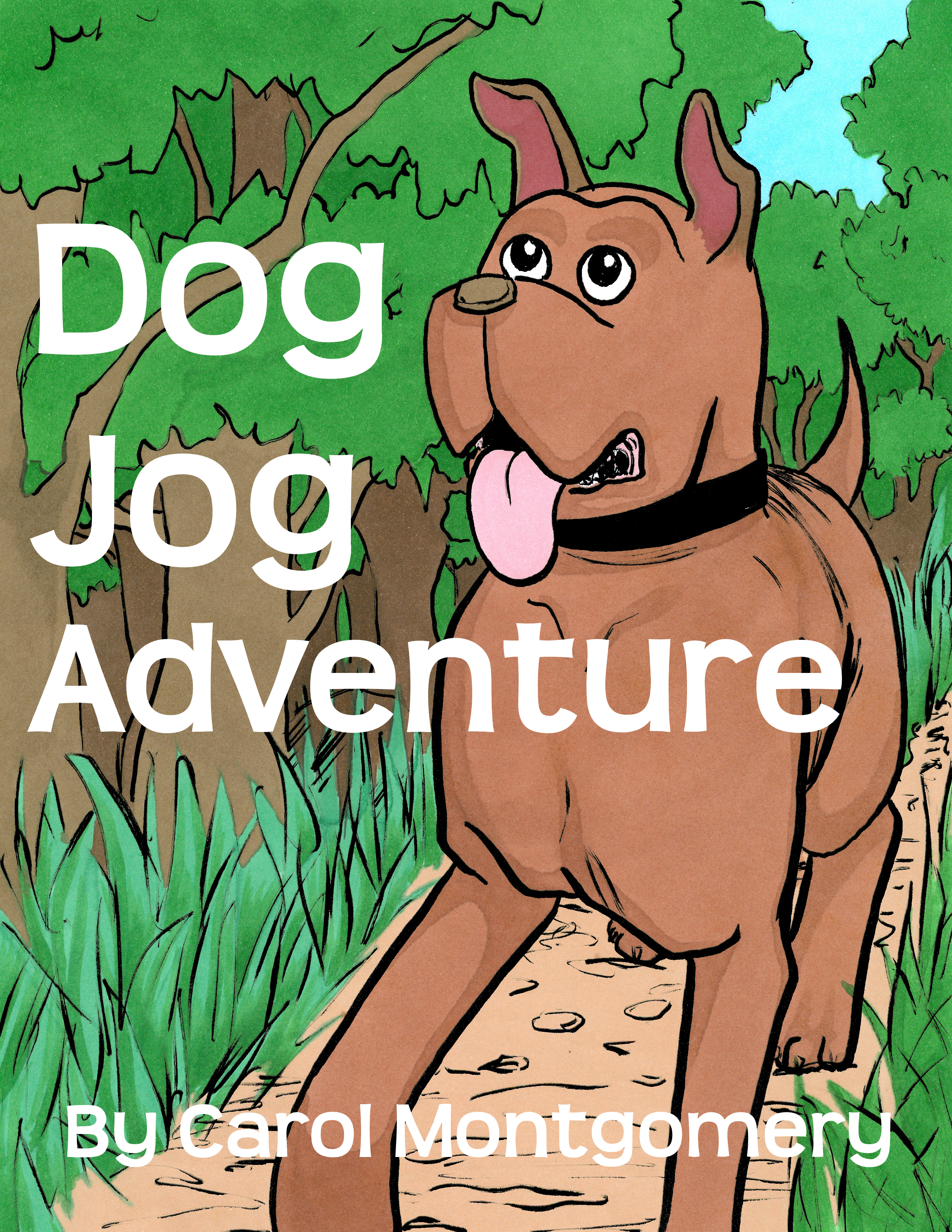 "Dog Jog Adventure with the Sisters" was requested by a Script Buffet Club member for an all girl cast. Actually, the narrators could be boys. This light-hearted script is based on a true story that is guaranteed to make people laugh–or groan! Complete with annotated curriculum links for easy lesson plans, "Dog Jog Adventure with the Sisters" is perfect for students in grades 3-8 because the main characters are older girls and the vocabulary is slightly advanced. Struggling readers, middle school, ELL, and ESL students will particularly enjoy this real life script. (Note: We have this script in two other versions for three readers or three choral groups.)

TIME: 7 min. CAST: 4-5 TONE: humorous, light READABILITY: grade 3.6
Here is an excerpt from this Script Buffet Club member's request–published as a free Readers Theater script.
Dog Jog Adventure with the Sisters
Carol Montgomery ©2014
Narrator 1: "Dog Jog Adventure." Adapted from a true story.
Narrator 2: The Stevenson sisters–Michaela, Emma, and Jesse–decided to take a break from their weekend homework. Michaela, a college junior, noticed her high school sister, Emma, putting on her jogging shoes.
Michaela: Looks like you're going jogging again, Emma.
Emma: Yup. But, I want to take the dogs this time.
Michaela: Not ALL THREE dogs at the same time...
Emma: Why not? I'm bigger and stronger now. And, the Danes are older.
Jesse: And BIGGER and STRONGER, too!
Narrator 1: Jesse, the youngest, responded.
Jesse: I'll go with you. I'll take Muffin.
Emma: Good idea, Jess. Michaela, we'll be fine. You know Mom and Dad don't want me jogging alone. Do YOU want to come along?
Michaela: Sure, let me just grab the camera first. I have a feeling you may be in for a surprise.
Emma: Oh, are you planning a surprise party for me?
Michaela: You wish! It's not even your birthday yet.
Narrator 2: So Emma grabbed the three dog leashes and a couple of delicious dog biscuits. She handed one of the leashes to Jesse.
Narrator 1: The three dogs jumped, slobbered, and whined to go outside.
Narrator 2: Emma snapped the leashes on the collars and opened the front door.
Narrator 1: Two leashes dashed out first–pulled by the Great Dane brothers Max and Mustard.
Narrator 2: Holding the two leashes tightly, Emma raced out behind them.


Narrator 1: Jesse quickly followed with their old mutt, Muffin.
Jesse: Come on, Muffin! It looks like Max and Mustard have a plan.
Narrator 1: Unfortunately for Emma, Max and Mustard DID have a plan.....adventure! (Continued...)
***Click on the yellow link below to download the printable PDF "Dog Jog Adventure with the Sisters," a humorous Readers Theater script for grades 3, 4, 5, 6, 7, 8, and ELL or ESL students.
Download the printable PDF for "Dog Jog Adventure with the Sisters," a fun script perfect for middle school and high school students who need encouragement.